Nancy Klimas, M.D.,Director Nova Southeastern Institute for Neuro-Immune Medicine
Cort's analyses put exciting advances in context as he explains the limits as well as the promise of new research. I refer my patients to his site every day.
Charles Lapp M.D., Hunter-Hopkins Treatment Cente
Cort is excellent at keeping up with the news and simplifying complex concepts. I rely on him and you should too! (He) is a great source of reliable, up-to-date information.

Lucinda Bateman M.D., Director of the Fatigue Consultation Clinic
My associations with Cort Johnson..have all been productive and positive. I admire his straightforward but engaging journalistic reporting of complex situations regarding CFS issues.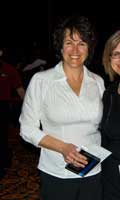 Suzanne Vernon Ph.D, CFIDS Association Research Director
Cort is an articulate, thoughtful and intelligent spokesperson and patient advocate.
Katrina Berne, Ph.D, Author 'Chronic Fatigue Syndrome, Fibromyalgia and Other Chronic Illnesses"
Cort, you have been a valued contributor to the ME/CFS community for a long time. I appreciate your staying on top of events, reporting and notifying us of new developments. Thanks for all the hard work you've done and for the news and hope you've offered all of us.
We could use your support! Please provide more testimonials in the comment section below or send to cortrising@gmail.com. Thanks!