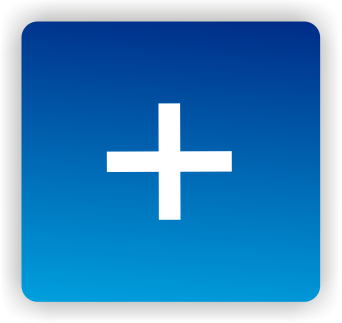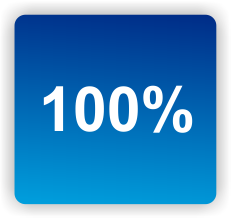 Thanks to the 31 people who have posted their stories on Health Rising's Lives Interrupted project! The Lives Interrupted project seeks to, in dramatic fashion, illustrate the impacts on finances, careers, relationships, and living situations that these illnesses can have – and it has! Its goal is to change the conversation around these diseases from one often of disdain or disbelief to understanding, compassion, and urgency.
This is our first, but definitely not last, dive into what the Lives Interrupted project is uncovering. The program is currently open to people living in the U.S., Canada, the UK, and Australia who have ME/CFS, fibromyalgia, post-treatment Lyme disease, POTS, and/or long COVID. Thus far, our stories have come from:
Canada – 3
United States – 21
United Kingdom – 7
Australia – 0 (Who will be first?)
The primary illness of the story posters has been:
ME/CFS – 21
Fibromyalgia – 6
Long COVID – 3
Post-Treatment Lyme Disease – 2
POTS – 0
(Twenty-four LI drafts on deck! Thanks to the 24 people who have started their stories. If you've started and need some help please let us know. Otherwise, we're looking forward to hearing your unique story including "Becoming Sisyphus: How the Temple of My Soul Trashed", "Can't work and can't afford not to", "Suddenly, On a Beautiful Summer Morning – 20 Years Ago…", "I miss myself" and others. )
The Lives Interrupted Story Tellers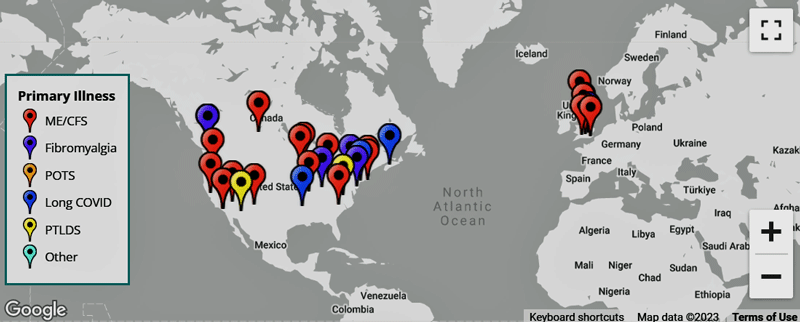 Who has participated in the Lives Interrupted project thus far? A wide range of people from all walks of life. The thirteen most recent stories (click on the links to view their stories) include:
Findings
The economic stats tell a remarkable story. Number of work years lost – 617; average economic loss over time (using our conservative, and not at all comprehensive, calculations) – a staggering $694,000; total economic losses – $15,968,904. (Note that we didn't attempt to calculate losses due to expected wage gains over time, lost investment opportunities, familial losses due to people becoming caretakers, or medical costs; i.e. these are minimum estimates.)
The longest ME/CFS story thus far (43 years), "Long ago in a distant place…", is mine. (I'm also the only person who was a student at the time of illness). Along with creating one of the most evocative titles yet, Diane ("Living life on a two-inch bungee cord"), the former Software Project Manager/Internationalization Specialist, has the biggest published projected economic loss thus far – $3,009,929. (Note that in order to participate in the LI project you are required to give your economic data but you do not have to make it visible.)
All that's really, needed, though, to get a grasp of the costs of these illnesses is to read the story titles. From "A Broken Journey" (from triathlete to " immovable, unrelatable blob"), "Not the life I expected" (from a former researcher), "Debilitated" (from a Canadian physician), "Nobody is Listening" (after 28 years..), "Once on track to becoming CEO" (now disabled – functional scale 20), "Everything is Gone" (very, very quickly), they quickly tell the tale of some remarkably disabling and functionally impairing diseases.
The two most recent stories demonstrate how quickly life interrupting these diseases can be. Mary and Lavenderblue ("M.E. Stopped My Life", "Everything is Gone") have had these diseases for just 2 and 3 years. Despite being perfectly healthy before both ME/CFS and long COVID, both are now at a functional level of 20 (out of 100), disabled, and not working.
The superb health some were in prior to getting ill shows that these diseases are equal opportunity diseases that have no problem plucking out the fittest among us. Dea, for instance, was an endurance athlete "in perfect shape and health who "bounced back no matter what" but then "suddenly fell ill overnight – LITERALLY OVERNIGHT". (A healthcare professional at the time, she has received no help from the medical profession – quite the opposite.)
T-rev was preparing for his summer triathlete competitions when he became ill. After preparing for a year for her backcountry trek, Ann got sick on a 5-day backcountry hike of the Chilkoot Trail in Alaska. Elizabeth took early retirement to enjoy the hiking, kayak camping, and skiing she loved – and is now getting a wheelchair. Mima had had no sick days for over ten years – and can no longer work.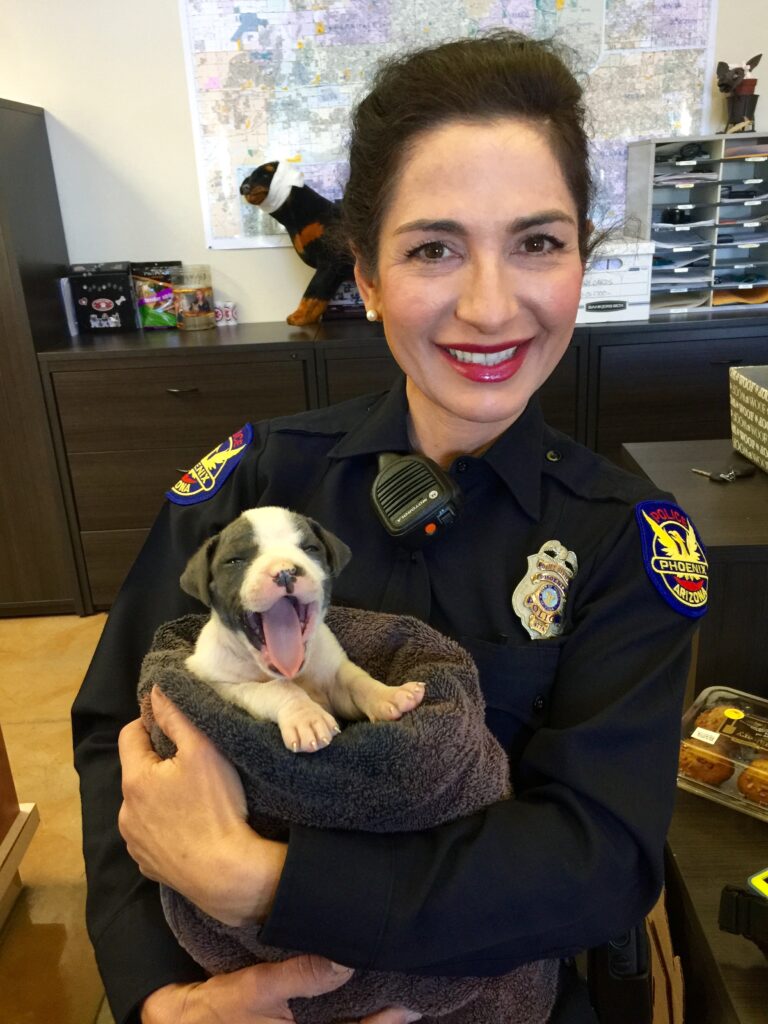 Mima was one of the first to post her story, and it shook me. Mima's is a difficult story indeed – one of the more difficult yet in Lives Interrupted. Perhaps no story, though, better illustrates how quickly these diseases can lay low a healthy, productive member of society.
With the increased interest in pathogens ("pathogens are apparently back"), Mima's story, with her multiple pathogen exposures, takes on increased relevance as well.
A police officer in Phoenix for over 20 years, Mima received numerous awards including the Employee of the Year Excellence Award, Officer of the Month, and other commendations. As a detective in the animal crimes division, she was involved in drafting legal changes to laws to protect animals. She was also a physically fit, full-time single mother of two young children, who had had no sick days for over a decade. She said she "loved meeting people on their worst day and trying to make it better."
In 2016, after responding to a crime scene with over 1,000 sick, injured, and ill animals, she ended up with 8 animal-borne infections and fell ill. A trip to the Mayo Clinic – not surprisingly – was no help, and then in 2017, despite being very physically fit, she failed her cardiovascular stress test… her muscles were not oxygenating properly.
After she was hospitalized (with near heart and liver failure) in 2018, the bottom really fell out and her list of physical issues grew and grew and now includes Bell's palsy, migraines, balance problems, type 1 diabetes, and severe gut issues, to a connective tissue disease that apparently led to joint deterioration, scoliosis, and spinal degeneration. This year she was diagnosed with "midline shift disorder", which occurs when the brain is not processing visual and spatial information correctly, leading to a person not being able to correctly tell where their body is located, and causing balance and gait issues.
Formerly an avid reader, she cannot read anymore. She's forgetting the names of people, places and things that she knows very well. Exhausted and broken, her body has taken a remarkable hit.
Her subsequent financial issues are all too predictable. After being forced to stop working, she had to withdraw money from her retirement accounts and turn to her family for financial help. Severely fatigued, she's a couple of years behind on her taxes. A 3-year battle for workers' compensation was successful but did not cover her medical expenses. She's trying to file for disability – but the paperwork – including compiling years of doctors' appointments – has been overwhelming.
The worst, though, has been medical gaslighting by traditional medical doctors. She's been to the vaunted Mayo numerous times and has found them to be "very dismissive" of her symptoms, with several doctors telling her things like "everybody's tired". She's been told her cognitive problems are due to – take your pick – being depressed, not sleeping enough, or getting older.
The first doctor to take her seriously was Dr. Kaufman at the Center for Complex Diseases in California. She's continuing to see him when she can, but finances are "very difficult"
Mima's biggest loss:
"My biggest loss was my zest for life and independence. Most heart-wrenching is the fact that my older child has seen his mother reduced from a vibrant, enthusiastic, adventurous woman to a weak shadow who moves slowly around the house. My younger daughter has never known me healthy."
Participating in the Lives Interrupted Project

Please help others better understand these diseases by sharing how your life was interrupted by them.
The first step in participating in the Lives Interrupted project is becoming a member of the Health Rising Forum. if you are not already a member of the Forums, visit them using this link and register using the registration tab on the upper right-hand side of the page in the blue menu bar. Once your registration is approved, you'll receive an email asking you to validate your registration. That email will contain a link to your personal Lives Interrupted/Big Map portal page and allow you to enter your story.
We'll ask about your job responsibilities and income at the time you became ill, how many years you've worked (part-time or full-time) since then, whether you're retired or not, and what your current income is. (You can keep this information private if you wish.) We'll also ask a series of brief questions about the impact these diseases have had on your living situation, relationships, and finances. Finally, you'll be asked to give a brief statement about your most significant loss and be given the opportunity to provide your story.
Except for your username, which will appear on your story, all other contact information is kept confidential. We will never provide your contact information to anyone without your permission.
Add Your Voice and Tell Us Your Unique Story!
Start here by using this link to go to the Forum and register using the registration tab on the upper right-hand side of the page in the blue menu bar.
Like this Lives Interrupted Program? Please Support Health Rising and Keep Health Rising Moving
GIVE A ONE-TIME DONATION
GIVE MONTHLY

HEALTH RISING IS NOT A 501 (c) 3 NON-PROFIT